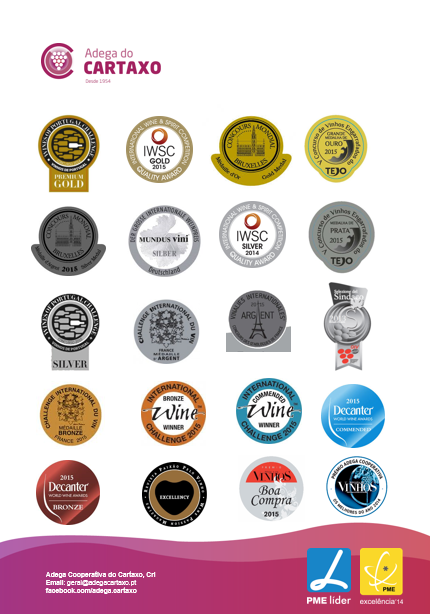 Despite having been in the wine trade for 60 years, Adega do Cartaxo continues to surprise.
Adega certainly had a wonderful year in 2015, winning several awards: Revista de Vinhos magazine named it "Cooperative of the Year 2014″ and the Gala de Vinhos do Tejo awarded it the trophy for "Outstanding Company of the Year 2014″ and named Pedro Gil Franco the "Winemaker of the Year 2014″.
 Besides these great achievements, Adega also won a total of 43 medals in national and international competitions: 1 great gold medal, 8 gold medals, 22 silver medals, 9 bronze medals and 3 commended medals.
 These numerous honours were the result of the company's market-oriented attitude, with its strong commitment to the quality and boldness of its wines and its strategy of diversifying and differentiating products and markets.

Adega promises to continue to surprise us for the rest of the year, with new launches and investments.